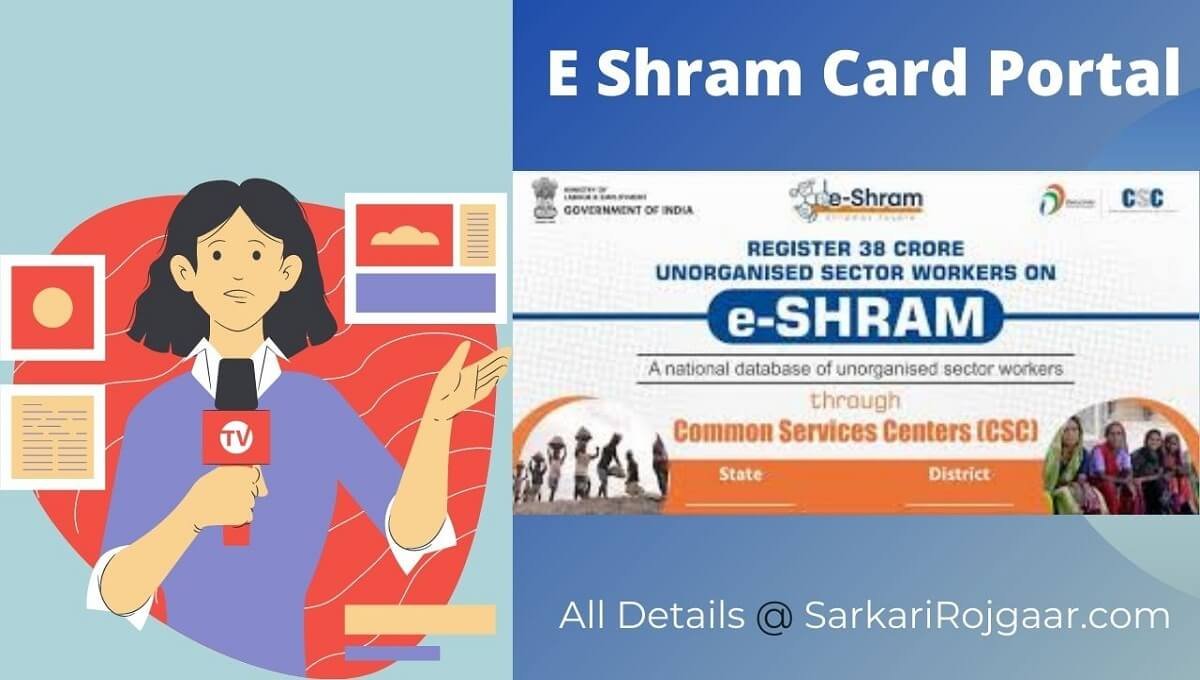 E Shram Card Registration 2023 Apply Online at CSE Portal : The Government of India has launched a new scheme called the E-Shram Scheme for the welfare of Unorganized Sector Workers and Laborers. e-SHRAM Portal has launched by Pradhan Mantri Narendra Modi. Check more details like Registration, Eligibility, and Application Process at SarkariRojgaar.com
E-Shram Registration 2023, e Shram Shramik Card Apply Online @ register.eshram.gov.in
The Labor and Employment Ministry of India has started E Shramik Portal to track and collect all information and data about laborers and workers in the unorganized sector. We will provide you with complete information about the e-Shram card in our article.
E Shram Portal, CSE Login & Registration, Shramik Card
The Ministry of Labour & Employment will provide the Unique Identification Number (UAN) Card for those Who apply for E Shram Portal. Those workers/ laborers who want to apply for E-Shram Card Online Registration can apply through CSC Seva Kendra. Self-registration on E Shramik Card using a mobile number linked with Aadhar Card. Please bookmark our website and read our article carefully.
E Shram Portal Registration Details in Hindi
भारत के श्रम और रोजगार मंत्रालय ने असंगठित क्षेत्र के श्रमिकों और मजदूरों के कल्याण के लिए ई-श्रम योजना नामक एक नई योजना शुरू की है। ई-श्रम पोर्टल प्रधान मंत्री नरेंद्र मोदी द्वारा लॉन्च किया गया है।
श्रम और रोजगार मंत्रालय ई श्रम पोर्टल के लिए आवेदन करने वालों के लिए विशिष्ट पहचान संख्या (यूएएन) कार्ड प्रदान करेगा। वे श्रमिक/मजदूर जो ई-श्रम कार्ड ऑनलाइन पंजीकरण के लिए आवेदन करना चाहते हैं, वे सीएससी सेवा केंद्र के माध्यम से आवेदन कर सकते हैं। उम्मीदवार आधार कार्ड से जुड़े मोबाइल नंबर का उपयोग करके ई श्रमिक कार्ड पर स्व-पंजीकरण भी कर सकते हैं। हर महीने बैंक में आयेंगे 1000 रुपये, 2 लाख का बीमा भी मिलेगा.
Scheme Name – E Shram Portal Scheme
Documents Required for E Shram Self Registration
Aadhar Card
Bank Passbook
Ration card
Electricity Bill
Mobile Number Linked with Aadhar Number
e shramik card registration Required Criteria
Aadhaar number
Aadhaar-linked active mobile number
Bank account details
Age should be between 16-59 years (26-08-1961 to 25-08-2005)
Benefits of E Shram Card Registration
Indian Government manages many welfare schemes for unorganized sector workers and laborers. You can check the benefits of E-Shram Portal Registration & update user data online and Download an e-Shram card Online at register.eshram.gov.in. हर महीने बैंक में आयेंगे 1000 रुपये, 2 लाख का बीमा भी मिलेगा.
Financial Support
Social Security Scheme Benefits
More Job Opportunity
Premium wave for 1 Year
Bhima Yojana Insurance Cover
Track Migrant Labourers' workforce
Who can Benifit for E Shramik Portal Online Bihar, MP, UP & Karnataka
Peoples who worked in Unorganized Sector as Workers and Laborers are eligible to apply for e Shram Portal. Check the Sector / Category details below.
Agricultural labors
Animal husbandry workers
Small and Marginal Farmers
Milk Pouring Farmers
Vegetable and fruit vendors
Migrant Workers
Sharecroppers Brick Kiln workers
Fisherman Saw Mill workers
Beedi rolling
Labeling and Packing
CSC
Carpenters Sericulture Workers
Salt workers
Tannery workers
Building and Constructions workers
Leather Workers
Midwives
Domestic workers
Barbers
Newspaper vendors
Rickshaw pullers
Auto drivers
Sericulture workers
House Maids
Street Vendors
ASHA Workers
How to Fill E Shram 2023 Registration Form Online?
Step to Apply Online E-Shram 2023 Application Form
Candidates have to open the official website of register.eshram.gov.in
Check the home page details and go for E Shram Self Registration Form
Candidate Enter Aadhar Linked Mobile Number.
Fill up Captcha Code and then click on the Yes / No option for EPFO and ESIC.
Click on Send OTP Button.
Application Form visible and fill up details.
Upload all required documents.
Click on submit button and Take a printout of the application form.
Important Links for E-Shram Card Registration
E Shram Card Self Registration
CSC NDUW E Shramik Card Status