UP Rojgar Mela 2023 Online Registration Form | UP Sewayojan Job Fair
Description – Employment Department Uttar Pradesh, UP Sewayojan Invites Job Fair Online Application Form for Job Registration / UP Rojgar Mela 2023. All the details @ sarkarirojgaar.com
Rojgar Mela UP – UP Sewayojan Rojgaar Sangam Organizes Rojgar Mela at UP District Level Every Month. Candidates are required to Fill Application Form Provided by UP Sewayojan And Submit it Online Only. And Get an Interview Call from the Interviewer's HR.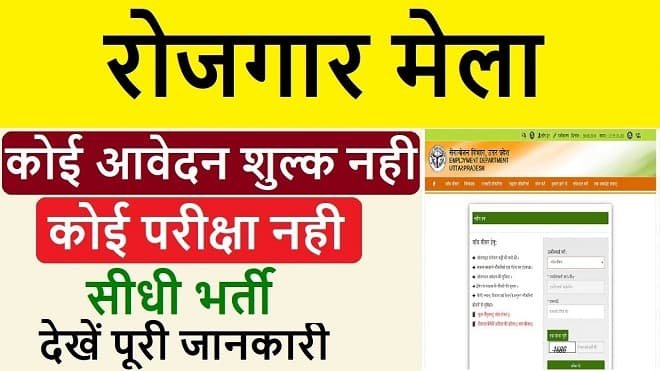 उप्र रोजगार मेला 2022 – प्रदेश के सेवायोजन कार्यालयों द्वारा निजी क्षेत्र में भी बेरोजगार अभ्यर्थियों को आमंत्रित कर रोजगार मेलों का आयोजन किया जाता है, बेरोजगार अभ्यर्थियों को अपनी इच्छानुसार संस्थान/कंपनी चयन करने की सुविधा उपलब्ध रहती है. रोजगार मेलें में प्रतिभाग करने हेतु सर्वप्रथम जॉब सीकर को सेवायोजन पोर्टल पर अपना पंजीकरण कराना आवश्यक है (रोजगार मेला रजिस्ट्रेशन 2022)
UP Rojgar Mela 2023 Online Registration Form
(Employment Department Uttar Pradesh, UP Sewayojan)
UP Sewayojan Rojgar Mela 2022
www.SarkariRojgaar.com
Important Dates
Rojgar Mela Starts: 01-01-2023 to 12-12-2023
Application Fees
No Fee Required for Rojgar Mela UP Sewayojan
Age Limit
The candidate must have Minimum age is 18 years for Attending Rojgar Mela UP (New List Released)
Total Vacancy
Vacancy List Open in UP Sewayojan Rojgaar Sangam Portal for attending Rojgar Mela in UP
UP Job Fair Online Registration Form 2023
Short Details of Notification
नवीनतम जानकारी:- सेवायोजन कार्यालय उत्तर प्रदेश द्वारा विभिन्न जिलों मे लगभग 35000 से ज्यादा रिक्त पदो के लिए रोजगार मेले (UP Rojgar Mela 2023) का आयोजन किया जा रहा है। आप अपने जिलें के अनुसार रोजगार मेले मे भाग ले सकते है। रोजगार मेले की सारी जानकारी नीचे दी गयी है।
उत्तर प्रदेश रोजगार मेला 2023 | उत्तर प्रदेश सेवायोजन नौकरी मेला 2023 | 10 वीं हाई स्कूल, 12 वीं इंटरमीडएट, बीए, बीएससी, आईटीआई, डिप्लोमा उम्मीदवार UP Rojgar Mela 2023
उत्तर प्रदेश रोजगार मेला 2023 की सूची
Eligibility Criteria for UP Rojgar Mela –
Qualification – Candidate passed High School (10th) class or Intermediate (10+2) Exam or Graduation or Diploma from a recognized board or university.
UP Rojgar Mela Selection Process: Candidate selection is based on Interviews organized by Companies.
How to Apply Online UP Sewayojan Rojgar Mela
Applicants Open UP Sewayojan Rojgaar Sangam Official Website sewayojan.up.nic.in
Open the New Account Link on Home Page.
And open UP Rojgar Mela Online Registration Form 2023
Read Form Filling Instructions Carefully.
Fill up the Registration Form. (Name, Mobile No., User Id, Password, Captcha)
And then click on Submit Button for Registration in Rojgar Sewayojan
After that Candidate Gets OTP to Enter in Login Area And Registration is Complete
And Fill in your Details (Docs, CV) to Sewayojan Portal and Apply for UP Sewayojan Job Fair
Document required – Passport size photograph, Latest Resume, Mark sheet, Certificates, Age Proof, ID Proof
UP Rojgar Mela 2023 के लिए सब्सक्राइब करें
UP Rojgar Mela Sewayojan Registration
Government Jobs in UP Rojgaar Mela
Private Jobs in UP Rojgaar Mela